The Six Wives & Many Mistresses of Henry VIII - by Amy Licence
As part of a virtual blog tour to mark the release of her new book - The Six Wives and Many Mistresses of Henry VIII - we welcome the very lovely Amy Licence onto the pages of our Rose Blog. Amy has given us a glimpse of the section covering Queen Catherine Parr and we are sure that you will all agree that it is a brilliant read and will have you wanting the book to learn more about Parr and all the other wives and mistress of Henry VIII.
Enjoy...
An inventory of 1547 gives a glimpse into Catherine's opulent world at Hampton Court. It lists a withdrawing chamber for the Queen, the King's bedchamber which led to the Queen's gallery and on to her bedchamber, from which, three more privy chambers were accessible for her use. In addition to her ladies, her household included George Day, Bishop of Chichester as almoner and humanist scholar Sir Anthony Cope as her Vice-Chamberlain, along with her master of the horse, secretary, chaplains, physicians, apothecary, clerk of the closet and her learned council, which contained lawyers and clerks. There were fifty-one men in her immediate service, including ushers, grooms, pagers, sewers, waiters and yeomen, as well as her own messengers, goldsmith, tailor and those who cared her for animals. In addition to this, she had another set of servants for the kitchen and service of meals, which mirrored that of the King, as well as her laundresses and the menial staff who lit fires and lamps, swept the floors and carried wood or water. She also had her own jester, a woman named "Jane the Fool."
Catherine has often been cast as the nurse of Henry's twilight years, through his terrible afflictions with his ulcerated legs. This is far from the truth. Henry possessed sufficient nurses to tend to his health, which would have been unseemly for a woman of Catherine's status. Instead, he wanted her to be an ornament to his court, to divert him with pleasure, to which end he happily indulged her passions for dancing and music, clothes and flowers. Daily payments were made for flowers and perfumes for her rooms and she kept a group of Italian viol players. She was also reputed to bathe in milk to soften her skin and some medical manuals of the time do recommend this, along with the use of flowers and herbs, perhaps in the new bathrooms Henry had installed at the Tower and Whitehall in the 1540s. Henry showered her with gifts: a pet spaniel named Rig, who wore a crimson velvet and gold collar, a parrot that was fed on hemp seeds and a swathe of jewels: diamond brooches, tablets with bejewelled initials and ostrich feathers and portraits of himself painted on gold.
The new queen inherited her predecessor's wardrobe, which was customised to fit her by the royal tailor John Scut, who had served all Henry's wives. The process must have required some additional material, perhaps panels and fringes to lengthen skirts, as Catherine Howard was reputed to be very short while Catherine Parr's coffin would measure five foot ten inches in length. She also commissioned new clothes, sending for silks to Antwerp, and was noted by the Duke of Najera for her elegance and opulence, dressed in a robe of cloth of gold over a brocade kirtle, sleeves lined with crimson satin, a two-yard long train, a gold girdle adorned with pendants, diamonds in her headdress and more on the jewel she wore. He also noted the two crosses around her neck. Catherine may have been pious, intelligent and devout but she was also something of a sensualist.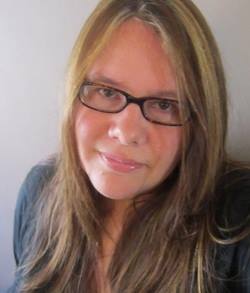 Thank you Amy and we wish you all the success with your latest book!
The Tudor Roses
https://www.facebook.com/amylicenceauthor
http://www.amberleybooks.com/shop/article_9781445633671/The-Six-Wives-_-Many-Mistresses-of-Henry-VIII.html
ISBN: 9781445633671
Format: Hardback
RRP: £20 GBP or $34.95 USD.