Well we've done our first Sudeley Castle event and it was great! For three (Darren, Emma and Katherine) of us it started on the 14th as that was when we booked into our very appropriately named hotel, The Tudor House Hotel, in Tewkesbury in early the evening. There were a lot of ooosss and aaarrss as the hotel had very lovely stained glass windows all over, along with many Tudor features including a full set of armour that Darren wanted to take home!
We took our bags to our room (after we had look at each others rooms) to settle in and then Emma went to the bar to get a food menu with which she went to Katherine's room where she was meet with a very rosy smell! After collecting Darren we all made our way down to get some dinner!
After a lot of looking and talking we all went for a very Tudoristic chunk of Daisy the Cow with something called chips? Dinner went down very well, then come the pudding. The best part of the night was moments away when after the pudding it was time for the tea and coffee and Darren asked if he could have Cointreau coffee to which the young man said "We can do you a coffee with Cointreau on the side as we don't do floaters here"! To which Emma bust out laughing as Darren replied to him "That is just as well"! We don't think he got our humour as it might have been a bit too British (or childish)… oops!
From there it was back to Emma and Darren's room (and keep it clean you lot this is a family page) for yet another cuppa before bed!
We all woke to a lovely sunny morning as Erica was making her way from Nottingham with her mum and dad. Our guest Rose for the day Sarah (a little more about Sarah later on) was making her way too and as was we on the road again after a hearty full English. Sudeley here we come all very excited.
Side view of Sudeley Castle
We arrived at Sudeley Castle and was greeted by Kate who sent us up to the Castle where Erica and Sarah were waiting as they got there just before us. It was there that we was meet by Kim who showed us to the office in the castle tower where we were to get changed. Erica and Katherine started to change while Emma dressed Sarah in the dress she was going to be wearing. Just going to take this moment to say thank you to Sarah for being our guest for the day! We loved having you and glad you want to come and join us again. Sarah is at the moment writing a book about Anne Boleyn, the book is going to be called Le Temps Viendra: A Novel of Anne Boleyn. We hope spending the day with us will help with the book.
So where were we, oh yeah getting dressed…. Katherine and Erica was dressed and so was Sarah who when she was all finish and saw herself in the gown started jumping up and down very excitedly. It only left Emma to get ready which didn't take too long thanks to some lacing from Darren. Then we were ready to step out into the sun! We are very proud to announce that it was the premier viewing of three new gowns for the Roses at Sudeley. Erica was wearing her new red one, Emma wearing her new gold one and Sarah wearing Emma's new black and red one!
When we came out of the tower we were met by our King. also known as Good King Hal, who we have worked with last year at Leeds Castle in Kent. That wasn't it for Tudor ladies as not long after we had stepped out Diane and her step-daughter appeared all dressed and ready to go (it was lovely to meet Diane and her step-daughter, and to work with). All set we headed off to meet the guests!
From left to right: Katherine Howard, Princess Mary, Princess Elizabeth, Katherine Parr, Henry VIII, Anne Boleyn and Jane Seymour.
Henry set off with Anne Boleyn, Jane Seymour, Katherine Howard, Princess Mary, Katherine Parr and Princess Elizabeth for a walk in the lovely gardens and castle estate all merrily chatting whilst meeting and greeting the guests along the way. Our good lord took us into St Mary's Church where Katherine Parr lies buried (Katherine Parr was Henry VIII's last queen, lived at Sudeley and is buried in St Mary's Church within the gardens. She is the only English Queen to be buried in a private residence). We cannot think of a nicer place as it is a breath taking little church. Inside the church there is a wax figure of Katherine Parr laying in state and in the background you can see Lady Jane Grey, her chief mourner. This is an image projected on the wall and so Lady Jane actually moves and wipes her tears! Incredibly moving and it sends a chill or two down the spin. We also got to see the impressive tomb of Katherine, a very fitting resting place for such a great lady. From there we walked, talked and greeted more of the guests. We eventually came across a thing called a 'gift shop'?
Katherine Parr laying in state
From there we made our way to the restaraunt for a nice hot cup of tea which presented a funny sight for the guests walking in and having to take a second look at us all sitting round the table drinking tea, it is something you won't see everyday. After that it was time for some more photos and to look around the exhibition and what is left of Katherine Parr's apartments; it is just such a shame that the rest of it is not there for us to enjoy. From there we walked the grounds meeting more of the guests and taking in lots of other attractions that were there besides us for the guests to see and do which included circus skills training group, archery and a falconer which had a run in with a dog who was not on a lead!
Katherine Parr Tomb St Mary Church Sudeley Castle
It was time to try and squeeze some food down us which we did just about with some heaving and hoeing we got ourselves out of our chairs to walk lunch off in the lovely gardens in the late afternoon sun. From there we went back to St Mary's.
It was time for some more photos and it was with much mirth that our lord king instructed us to perform the Tudor YMCA, which we all found very amusing and a bit surreal. Once we had all recovered from that moment of madness it was time to walk when we had a very cute little girl come up and ask us all for our autographs.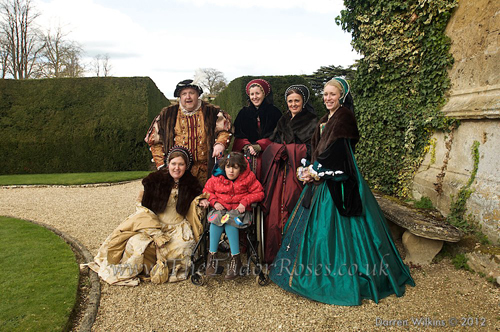 Us with one of the many guests
It was time to watch some falconry whilst sitting in the knot garden and winding down as that was it for us, our day was at an end and all that was left for us was to change back into our normal clothes and head home after a very enjoyable and successful day.
So if you missed us at Sudeley don't be upset as we will be there again on Monday 7th May for the next Tudor Fun Day, so please come and see us and say hello as we would love too meet you. Also we want to say thank you to Kim who works at Sudeley for giving us the chance to visit such an amazing and enchanting castle, asking us to come back again and for the lovely email she sent us on Wednesday.
We hope you have enjoyed reading our Blog about our first ever visit to Sudeley Castle and have enjoyed looking through the photos on our Facebook page (photos soon to be added to our website).
We look forward to seeing you at the next one!
The Tudor Roses