Hello everyone, sorry we have been remiss in posting our own articles for a while but we thought we would remedy that by doing one on an exhibition we recently went to. We know how some of you would love to make it to some of the exhibitions that are put on but cannot always make it, so we give you a summary of the new exhibition that is happening at The National Portrait Gallery until March 2015. It is of course a Tudor exhibition - Real Tudor Kings and Queens. In this blog I will give you a run through of some bits that are there but will endeavour not to spoil it for those planning to see it. The National Portrait Gallery houses not only their own Tudor portraits but also those owned by other organisations and individuals, plus items which are on loan.
We went to see the exhibition at the beginning of October and we were not disappointed as it was a good mix of paintings and actual Tudor objects touched and held by the monarchs of the period. The NPG (National Portrait Gallery) has taken some of the portraits and x-rayed them to see what they may be hiding beneath what we can see with the naked eye. You can see the results by the side of each of the paintings that they have worked on and it is really interesting looking at what they have discovered.
In one portrait of Henry VII (c.1505) you can see that the artist painting him was going to give him wider cuffs to his robe but changed his mind for whatever reason and gave him a smaller one. It also shows strong underlying drawing to the face whereas the fingers are more roughly sketched; maybe he did not like sitting for the painting. Henry VII's funeral bust is on display, as is one of his book of hours, given to him by his daughter, Margaret, before she left England to marry the Scottish king James IV. I must say there was something stirring about staring into the eyes of his bust.
In a portrait of a young Henry VIII (c.1520) the infrared scan showed that the original drawing of Henry's features were closer to images of his brother Arthur and his father Henry VII, then what we see in the final portrait. This is very interesting as did Henry have it changed so people would not compare him and his reign to that of his fathers? It also showed that the artist may have used a standard hand pattern to mark out the hands; I wonder if this was down to Henry wanting to be out and hunting instead of sitting still to be painted. Henry's rosary is included in the exhibition which is something I have never seen and which I was shocked at how big it was - it is beautifully made though and the carving on it was so intricate with the coat of arms of England being one of the many symbols on it.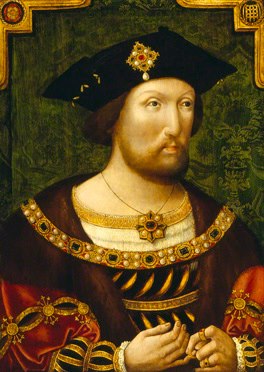 There are a few paintings of Edward VI and my favourite was there to be seen, but I find one in particular very interesting. It appears that it was started before or around the time Edward became King and was then changed after the event to reflect his change in status as King of England. When the painting was started it had a window on the left hand side which was then covered by a column and the royal coat of arms put upon this column. Also his left foot was moved to a more appropriate position for a nine year old and not the wide, unnatural stance and pose of his father in the Holbein portrait that we have all come to know so well – especially Superman fans! They have Edward VI's chronicle there too, another item I have heard so much about but never seen. It details the moment that Edward heard of his father's death. I wonder what the young King must have been feeling at this time with both his parents now dead and he being thrown into the position of head of the county and of the church at such a young age.
I was really pleased to see that Queen Jane Grey was included but alas no x-ray or infrared had been done on her painting. I do not know why as it would have been interesting to see if it had anything to hide like many of the others in the exhibition. That is all they had regarding her but I was glad to see her at least acknowledged in her position as one of the Tudor monarchs. People do sometimes seem to forget that she was actually 'Queen Jane' even if it was for just thirteen days (yes thirteen, not nine) and that she counts as a Tudor Queen – remember you do not have to go through the coronation to be 'crowned'.
There are several portraits of Mary I along with a couple of her husband Phillip of Spain. On the infrared reflectography it shows extensive under drawing that delineates the composition and how thin the paint layer is. Why this is I am not certain, but it does allow the under drawn lines to be partly visible so maybe it was done deliberately in order to better define the features. It was lovely to see Mary's book of prayers (c.1554) with an image of herself within it.
Now for the last Tudor monarch! There is almost a whole room dedicated to Elizabeth I. It includes portraits from the early years of her reign to those painted late in her life. With these portraits there has been both x-ray and inferred scans carried out. In the phoenix portrait the infrared showed a change in position of Elizabeth's eye and clearly shows where it has been moved. In another of Elizabeth's paintings it has been shown that the artist kept closely to the drawn design but did make lot of 'sketchy' marks to capture her left hand. The feather fan was also meant to be slightly higher than seen in the final position that we now see. Amazingly we now know that most of the paint in the portrait is original and is in good condition.
Now, in my opinion, I think this is the best part of the exhibition. For me this is something that I have longed to see with my own eyes for many, many years and now I finally have! What did I see I hear you say? Well I shall tell you, it was Elizabeth I's locket ring and it was just simply beautiful. To see those two small faces amazingly created in such a tiny space with so much intricate detail is totally breathtaking. Now one we know is Elizabeth herself but the other has something of a controversy surrounding it. Some say it is her mum, Anne Boleyn, and some say it is her last stepmother, Katherine Parr. It has even been suggested that it is a young Elizabeth. If you were to ask us we like to think it is Anne due to the fact that it was something that Elizabeth always wore and an image she obviously felt she had to keep hidden from others. Whoever it is the ring is just stunning and I never released that it had a phoenix on the back of the ring – maybe to tie in with the phoenix portrait?
They still had the painting of Anne Boleyn, Kathryn Parr, Thomas Cromwell and Richard III there but they are in the room after those used for the exhibition and unlike those rooms you are now allowed take photos, yay! What a difference a room or two makes.
This is just a small part of what is there and it is a must see for not just us Tudor nuts but anyone interested in art, portraits or historical objects in general. But good news after its London run The Real Tudors: Kings and Queens Rediscovered will form the core of a larger exhibition organised in partnership with Réunion des Musées Nationaux – Grand Palais at the Musée du Luxembourg, Paris, in 2015. So if you don't get to see it in London you still have the chance in Paris. If you cannot actually get to see it for yourself you do not have to miss out. The NPG has released a book to go with the exhibition that you can get from their website and also on Amazon. There is also a pretty good iPhone and iPad app available which is a nice touch and is worth checking out.