Hedingham Castle – By Lady Katherine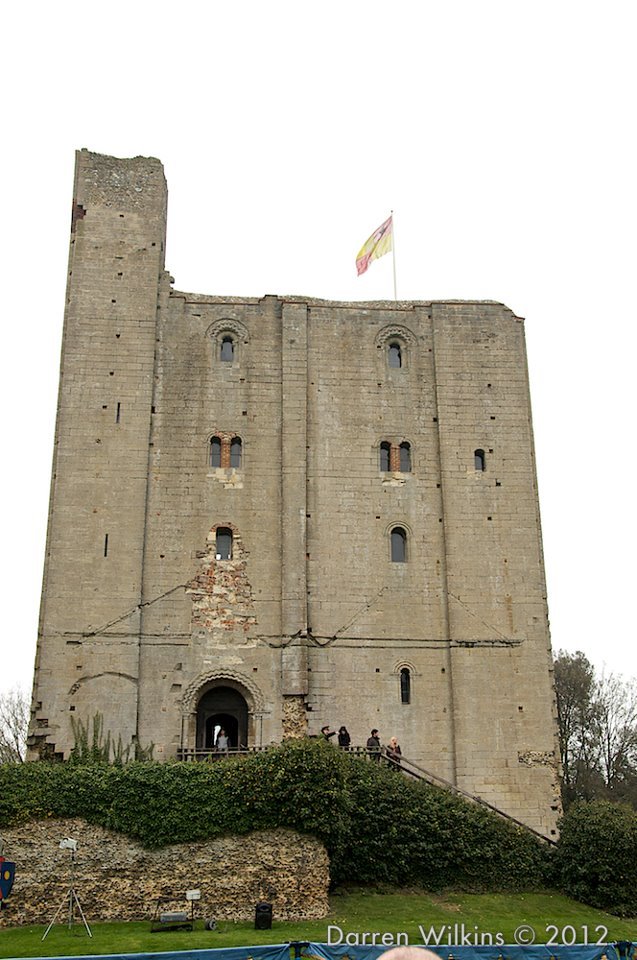 DAY ONE
It has been one of the warmest March's in history, bright sunshine, hosepipe bans, days in the park, shorts and t-shirts weather – it couldn't last. The weather/mother nature, of course, knew an Easter Bank Holiday was approaching! And so it was with great trepidation the week prior, that myself and Lady Emma were obsessively checking the forecast for this particular weekend as it would be our first Roses outing at Hedingham Castle and we wanted it to go off without a hitch.
Well Sunday arrived and, despite the mad rush due to someone's alarm not going off (Not mentioning any names, particularly not our photographer's) we set out early for Hedingham under the oppressive gloom of a grey sky. "I think it is brightening up a bit" I was repeatedly convincing myself and my fellow travelling companions to little effect ("Shut up or you'll jinx it!" was their reply). Our only hope was that it would, at least, stay dry. I should also mention here that we were sadly a 'Rose down' due to Erica having other commitments that day so the remaining two of us were particularly keen to make a good impression despite not operating in 'full capacity'.
We arrived in good time at Hedingham Castle, an impressive Norman Keep which reminded me somewhat of Rochester Castle only in better nick. There was also a beautiful Georgian manor house within the grounds where, sensibly, later owners opted for a less draughty existence and more comfort.
We were led to the wedding marquee where we were able to get changed in privacy (and also extremely quickly due to freezing temperatures!) Emma had opted for her blue gown and I had chosen my new green gown. A bit of bright colour amongst the grey day!
A little nervous about what to expect (we were simply told, "head to the castle") we left the comfort of our marquee/refrigerator and made the walk up to the castle where visitors were starting to arrive.
The weekend was billed as a Jousting with the Knights of Arkely with Food and Craft Fayre and it was great to see many of the stallholders in traditional garb selling homemade produce and crafts. Some of the 'merchants' took it further by actually sleeping overnight in their tents – actually they were much more elaborate than tents, the back area was covered by thick curtains and housed the living quarters, the front area was where the trading took place and produce displayed. All traditional and very impressive!
The rat-catcher was playing a merry tune (although thankfully not a rat in sight!) as we walked over the bridge to the castle and we were pleased to see that the threat of bad weather had not put the visitors off. In fact the public's spirits were high and it was lovely as we were doing a walkabout to be approached by so many people of all ages wanting photos or asking questions about our gowns.
It was not long before the falconry display which was put on by Lavenham Falconry. An impressive array of birds of prey which clearly had been trained well and were well trusted by the falconer (and vice versa!). The birds really seemed to enjoy the attention from the visitors. Crowd favourite Basil the Bateleur Eagle was a bit of a show off but a huge hit with the children. It was also Sid the Vultures first display and he did splendidly around the enthusiastic crowd.
Next came the Jousting and we took to the heights of the keep to watch the action from above. It was with a great fanfare and cheering of the crowds that the Knights of Arkely came into the main Castle grounds astride their fine steeds and with armour shining in the sun (Ok, I lied about the sun, but it sounded good). A particularly action-packed display ensued with a mix of horseback events including ring jousting (each opponent must try and loop a suspended 'ring' onto the end of their lance whilst riding at high speed), tent –pegging (opponents gallop at high speed and attempt to spear an object on the floor with their lance as they pass) and traditional jousting itself. The knights then took to the ground for some dramatic sword combat to end their show.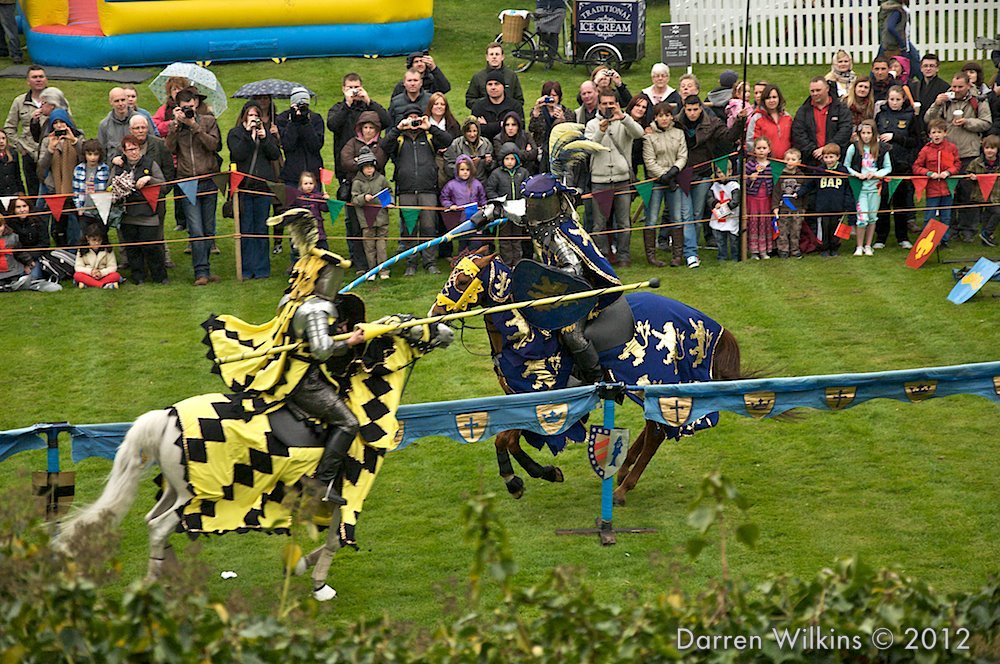 The afternoon brightened up for a while (but then started spitting for a while) and we enjoyed walking around the grounds speaking with visitors, many of whom asked us whether we had found any of the promised Easter Eggs in the Easter egg hunt. However, despite our best efforts, not an egg was seen by us. I blame the falcons!
We also enjoyed speaking with members of the Royal British Legion who were there to raise funds for the poppy appeal. We were proud to put a poppy pin on our gown and we even made it into their magazine!
Before we knew it, it was the end of day one, visitors were leaving and we were heading back to our marquee/refrigerator to pack for home. We did a little detour in the car on the way back to pay a scouting visit incognito to one of our future Roses venues, all will be revealed at a later date! (If you are good with Google or Google maps you could potentially play detective and work out where we will be!)
DAY TWO
Another day another joust! (And also Lady Emma's birthday! Hip-Hip Hurray!) With our first trip to Hedingham behind us we were confident with what to expect on the second day. Well, we were until we stepped outside to the car and it was chucking it down and blowing a gale! The show must go on so we left a very rainy Kent and entered a very rainy Essex.
Our marquee/refrigerator had today become a marquee/refrigerator/wind machine and between it nearly taking off and us freezing to death, we somehow managed to get ready and vacate the building before we had a Wizard of Oz-style tornado/house moment.
The rat catcher was again doing his best to cheer up the dampened spirits of brave visitors entering the castle grounds. Unfortunately the archery which had been so popular the day before was pretty much off for the day due to the weather and even the hardened stallholders must have had a harsh nights exposed to the elements in their tents/marquees.
I hadn't walked far before I felt my poor red skirt getting increasingly heavy until it resembled an old rag used to clean floors with. Not how taffeta should be treated! I could already feel the sympathetic looks from visitors who were mostly wrapped up in their war against the weather looking like Michelin Men with waterproofs, wellies, scarves, gloves and umbrellas – the lot! We retreated up to the relative warmth and dry of the castle gift shop/cafe where for the next few minutes I proceeded to mop the floor clean with my skirt much to the joy of the castle maintenance department and much to my sorrow looking at the state of my skirt train! It was also an appropriate time, whilst drenched, muddy and somewhat windswept to bump into the dashing BLACK KNIGHT looking cool as cucumber not a hair out of place whilst grabbing a quick drink before his event. I tried to remain cool and demure (as any Tudor lady should!) whilst chatting until I realised my skirt was dripping mud on his shoes and I had made a nice U-shaped pattern around him as we were talking. Sigh
Embarrassing moment with a Knight aside, we were particularly delighted to meet up with Debbie Allen, a faithful supporter of our little Tudor group pretty much since day one and it was wonderful that both she and her husband had braved the weather to come out and say hello. I only wished we were able to look less soggy in our photos with her and that she could enjoy all the other events downpour-free but a good laugh was had none-the-less and hopefully it won't have deterred her from returning to see us on another occasion, preferably in better weather!
Both myself and Emma ascended to the next floor of the castle to the banqueting hall where there was a beautiful stone arch spanning the room. There was a lovely display of artefacts from the castles history and there we met another very knowledgeable and enthusiastic man in traditional medieval costume who would quite happily talk all day about the castle history or medieval period. (Although I don't think he liked Richard III very much – but does anyone? Hehe)
We ventured outside again briefly during a break in the weather but were only too soon forced back inside due to the elements. It was such a shame because it really affected visitor numbers and there was nothing like the crowds from the day before. Those brave enough to come along all seemed to be making the best of it though and we enjoyed a good laugh with people as they all rushed for cover during a particularly heavy downpour.
After the falconry display we had the pleasure of meeting Steve, the falconer at Lavenham Falconry, who very kindly allowed us to hold some of his magnificent birds. This was a wonderful birthday treat for Emma (and, of course, myself and Darren too) who has always been keen on falconry and birds of prey. I enjoyed holding the barn owl, eagle owl and the fish eagle. Both of the owls were very passive and were light in weight. My eagle owl spent most of the time on my arm looking up with his big amber eyes at the flag at the top of the castle blowing wildly in the wind. My barn owl ALMOST ended up adding insult to injury on my already sodden dress by having a little 'toilet time' within millimetres of my skirt. Fortunately that crisis was averted just as the Knights of Arkely again returned to the field for their jousting show! I got a sideways look from the Black Knight...though I feel that was probably more in sympathy than in anything else (the weather was, again, turning dreadful).
The fish eagle was a beautiful bird with fierce eyes and an attitude to mix! You can certainly understand why ladies of the Tudor era stuck to much lighter merlin's when hunting as my arm after a few minutes was feeling the strain of the much heavier eagle. I can imagine it was such a wonderful pastime though as the birds are all very intelligent and, with fine weather and good company, there could be nothing better than hawking in the English countryside.
Fascinating fact: The term 'Hoodwinked', derives from falconry - namely the action of placing the hood over the falcon's head to recover the captured prey from the falcon's talons, it means pretty much the same as now when you are cheated of something.
After the jousting whilst the remaining crowds disbanded and headed for cover, we reluctantly made the decision that our gowns (and our cold and soaked selves) could not take any further punishment by the weather so we called it a day and headed back to get changed. Getting soaked in Tudor costume is very different to getting soaked in modern clothing. The various skirts, petticoats, farthingales and fabric get heavy very quickly and the buckram from my French hood started to warp a bit. Fortunately we have dry cleaners in this day and age but I doubt that ladies gowns in Tudor times could withstand regular exposure to the elements. Thank heavens for the invention of umbrellas!
All in all both myself and Emma did not let the elements dampen our spirits and it seemed that everyone who attended had a great time all things considered. We were delighted to be asked to return again later in the year where hopefully good weather and the addition of a complete set of Tudor Roses will make for a very merry time indeed!